Activated Neutriherbs Charcoal Black Soap For Clear Smooth Skin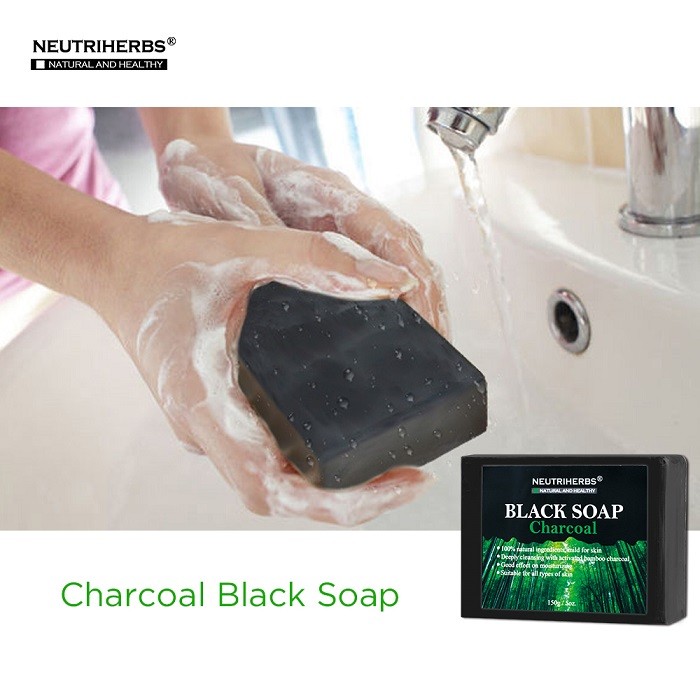 Neutriherbs Charcoal Black Soap enriched with beauty soap , essential oil and Olive extract to remove acne and pimples, it also have good effect of nourishing &moisturizing. It gives you a smoother, brighter, healthier-looking complexion.
1.100% natural ingredients, mild for skin
2.Deeply cleansing with Activated bamboo charcoal
3.Good effect on moisturizing
4.Suitable for all types of skin
Active Ingredient

Bamboo Charcoal: It has an excellent ability of adsorption and decomposition, deeply removing the dirt, pores and dull. It can also purity skin effectively and control the oil.
Coconut Oil: Coconut oil works for everyone. It does show coconut oil is an effective, and superior moisturizer for face and body, and also coconut oil effectively reduces inflammation and swelling associated with acne.
Aloe Barbadensis Leaf Extract: Natural Aloe Vera Extract, which helps to improve digestion and absorption of nutrients, leave you fresh, smooth and moisturized skin with nice looking.

For more information, please visit www.neutriherbs.com
For more skin care tips, Like our Page:
https://www.facebook.com/Neutriherbs/
Contact us:
Email: info@neutriherbs.com
Website: www.neutriherbs.com
Tel: +86-20-38393919
Whatsapp: +8615102049568
Skype:sale10_30