How to Get a Firmer Neck?----Neutriherbs
Issue Time:2017-04-12
Don't Neglect Your Neck

So many people takes a lot of time in their face, a little people take care of their necks. I just want to say don't stop at the chin: You must know, the skin on your neck can be thinner and more sensitive than the skin on your face and just as prone to changes in pigment, elasticity, and texture―and, yes, to wrinkles.

There are some tips to take care your neck.
1.Keep Your Head Up (Literally):
Have you ever heard of "tech neck"? "Tech Neck," a new phenomenon, is neck pain induced by constantly looking down at phones, laptops, or tablets. The spine pain isn't the only result of looking down at your technology. Horizontal wrinkles develop on your neck since neck skin and muscles aren't as thick or strong as face skin, respectively. Limiting screen time can help prevent neck wrinkles as well as lifting your phone or tablet up to eye level to avoid looking downward. Don't let your neck give your age away; Always keep your head up!
2.Apply Neutriherbs 24K Neck Mask, give your neck some extra love.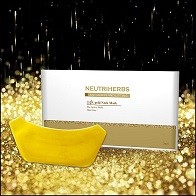 Function
1. Anti-wrinkle and Lifting
2. Hydrating, Moisturizing and Soothing
3. With Nano Gold, Grape Seed Oil and Hyaluronic Acid

For more information, please visit www.neutriherbs.com
For more skin care tips, Like our Page:
https://www.facebook.com/Neutriherbs/
Contact us:
Email: info@neutriherbs.com
Website: www.neutriherbs.com
Tel: +86-20-38393919
Whatsapp: +8615102049568
Skype:sale10_30