What are your skincare essentials when traveling?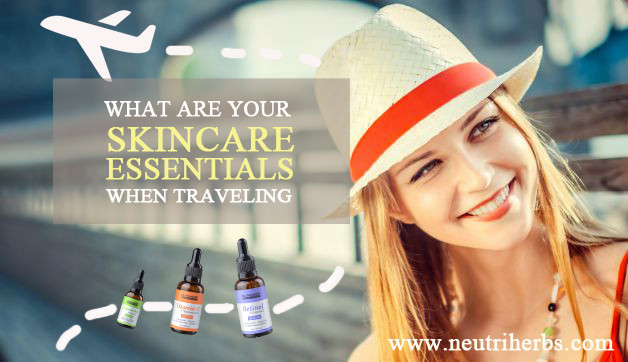 Traveling can be an exhilarating experience, but unfortunately, skincare problems as well as troubled you. The sun is intense at that altitude, travel fatigue, and not enough rest, so how do you avoid showing up with your skin looking less than perfect?
Tip 1: Hydrate from the inside to outside.
The day before your flight it's a good idea to hydrate your body with water and eat antioxidant-rich fruits and vegetables.

Plumps and hydrates dry and dull skin with Neutriherbs Hyaluronic Acid Serum. This serum is 30ml/pcs, it's easy to carry and rich with antioxidant Vitamin C, it leaves your skin soft, smooth, and rejuvenated.
Tip 2: Against Sun Spots
The sun is intense at that altitude. Neutriherbs Vitamin C Serum, this incredible formula fades sun spots, discoloration and refines skin texture. Leave you a youthful glow appearance.

Tip 3: Prevent and Clear Acne Break Out
Spicy food, not enough rest and hot weather are all lead to acne break out when traveling. Taking Neutriherbs Retinol Serum is best choice.This Retinol Face combined with synergistic blend of Vitamin E, Softens, it can unclog pores and clear up acne.
Email: info@neutriherbs.com
Website: www.neutriherbs.com
Tel: +86-20-38393919
Whatsapp: +8615102049568
Skype:sale10_30