What do you know about Essential Oil? - Neutriherbs
Issue Time:2017-12-01
Neutriherbs Essential Oils kit contains 6 pieces of therapeutic essential oil: Good night, Stress Relief, Clam Body, Relax, Refreshing and Romantic. Single package is also available.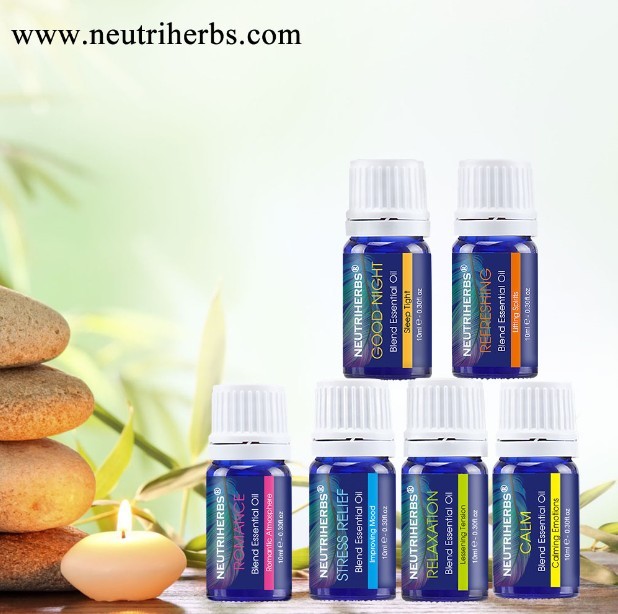 Why Neutriherbs Essential Oils?

Our essential oil is blend essential oil. It is easy to use. Where dose it come from? The extraction method is steam extraction. Neutriherbs Essential Oils set are blends of two or more natural and essential oils. All essential oil are 100 percent natural and naturally-derived; no synthetic ingredients are used.
Aromatherapy grade?

Perfume grade = only used for smell, has little effect
Food grade = can be used as food, has medium effect
Therapeutic grade = can be used for food, therapy and has a high effect.
Our essential oil belongs to aromatherapy grade =aromatherapy grade since aromatherapy requires only the finest of essential oils. And Neutriherbs Essential Oils are not nutritional supplements and are for aromatic and topical usage only. Do not ingest the oils.
Any certificates do you have for essential oil?

MicrobiologicalTest Report, Heavy Metal Test Report, Preservative Efficacy Test, MSDS
If you have any other question, please feel free to contact us!
Email: info@neutriherbs.com
Website:www.neutriherbs.com
Tel: +86-20-38393919
Whatsapp: +8615102049568
Skype:sale10_30